.
Speedball Screen Printing Ink

Serving the San Antonio Art Community since 1948!


"One Stop Shop For Your Creative Mind"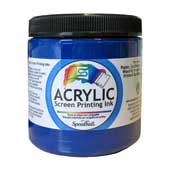 Speedball Screen Inks

Permanent Acrylic Paper & Wood Inks

19 birlliant colors for use on paper, wood and cardboard. Cleans up easily with water. Non-flammable and contains no solvents. AP Non-Toxic conforms to ASTM D-4236. Can be screen printed or painted with a brush. Archival qualities.