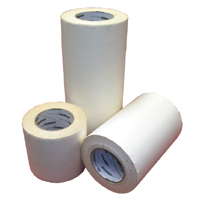 .
Serving the San Antonio Art Community since 1948!

"One Stop Shop For Your Creative Mind"


Main Tape Application Tapes

PerfecTear Application Tape Series 575

PERFECTEAR Plus™ paper application tapes tear cleanly, with no stringy adhesive. Greatly reduces errors in applying graphics. They also provide superior performance in wet applications with no time-consuming cleanup or gluey mess. Used for sign making, screen printing, digital printing and surface protection.

Main Tape provides the ultimate in pre-mask and pre-spacing tape, used for positioning and protection of vinyl decals, fleet graphics, die cut letters and emblems, digital printing and screen printing. Available in 300' rolls.