SUPER TRANS Transfer Paper

SUPER TRANS is a coated two side, high release, paper designed for maximum release of hot split or cold peel transfers with plastisol inks. Applications include 4 color process screening, combination hot split plastisol and plastisol puff, puff overlay, metallic, glitter, high opaque and straight plastisol. Recommended for use with adhesive powder.

SIZES: 12.5" x 12.5";  15" x 15"













Transfer Paper & Adhesive










.



"One Stop Shop For Your Creative Mind"

International Coatings Powder Adhesives

11H and 11L are polyamide based hot melt powder adhesives used to improve the adhesion of plastisol-based heat transfers.

11H consists of a Fine Grain 1 to 80 micron particle size adhesive.

11L is a Medium Grain adhesive with 60 to 200 microns particle size.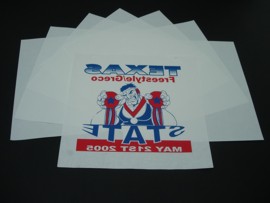 ® ArtDoggie is a registered trademark of Herwecks Inc. San Antonio, Texas © Copyright 2006 All rights reserved.


Super Trans 12.5X12.5 500shts.          51.95

Super Trans 12.5X12.5 1000shts.        99.95

11H Transfer Powder Adhesive      20.00/QT.

11L Transfer Powder Adhesive      20.00/QT.