Ulano EZ-Film 25shts.                39.95

Ulano EZ-Film 50shts.                73.65

ULano EZ-Film

EZ-FILM is intended for standard textile printing, and priced to be an economical alternative to direct emulsion in material cost and because it offers significant savings in labor and production time. EZ-FILM is ideal for mesh counts ranging from 110 – 156 threads/ inch (33 – 61 threads/cm.). It is pink in color and coated on 3-mil (75-micron) matte-surface polyester. EZ-FILM is sold in prepackaged sheets 15 X 17 inches (38 X 43 cm.). It adheres perfectly, dries faster than direct emulsion, and exposes very quickly. EZ-FILM can be adhered with plain water or with QTX direct emulsion in the direct/indirect mode. EZ-FILM should be used with non-aggressive solvent-based inks and mild washup solvents. Screen openers and aggressive solvents will make screen reclaiming more difficult.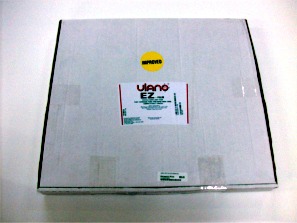 The original, diazo sensitized capillary films intended for use with relatively mild solvent-based inks such as enamels, poster inks, or plastisols. They should not be used with water-based inks or inks containing vinyl solvents. The green film turns blue upon exposure to actinic light. Adherable with water, FX88 emulsion, or other emulsions for special purposes. Shelf life of 18 months, coated screen life of 4 weeks.






















.



"One Stop Shop For Your Creative Mind"

Photographic Stencil Films

Intended for printing with plastisol inks on t-shirts and imprinted sportswear items. Extremely fast exposure times make the QT film suited for use with low power light sources. SBQ sensitized, pink colored film available in 50 micron thicknesses. Adherable with water or QTX® emulsion. CDF/QT Film is a precisely coated, capillary film version of Ulano's best-selling QTX® direct emulsion. Like QTX, CDF/QT Film utilizes pure photopolymer (SBQ) technology to assure extended shelf life and minimal influences from heat and humidity, the fastest possible exposure speed, good imaging properties, and on-press durability.

Ulano Indirect System Photographic Films provide the ultimate in stencil resolution and definition. The film is exposed, developed in Ulano A&B Developer, washed out, and adhered to a screen, after which it's transparent backing is removed. Blue Poly-2 is a blue, medium thickness emulsion on a 2-mil optically flat polyester backing. Combines wide exposure latitude with excellent resolution. Ideal for general screen printing work. Resolution: 75 - 100 microns (3 - 4 mils).

ULANOCUT Cut- Green is a knife cut, stencil film, coated on 300-gauge polyester. The film is adhered to screen mesh with plain water. The emulsion layer "sticks back" to the polyester for corrections when cutting. This film is compatible with all inks except those containing water.

Ulano STA-SHARP S3S is a tough, durable, long-lived, trouble-free, water resistant stencil for poster and general screen work. Will not hold up to aggressive solvent based inks. This is the fastest cutting and peeling film ever, because of its very smooth, stable 300-gauge cutting surface.

The backing sheet comes off quickly, in one piece and it won't shrink or expand in any weather. S3S adheres fast and has excellent stick-back qualities for easy corrections when cutting. It's easy to see through, and the glare-free green is easy on the eyes so you can work comfortably all day long. Adhere to screen with STA-SHARP Adhering Liquid.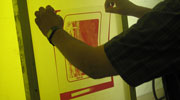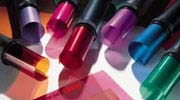 A&B Developer Powders are paired bottles of pre-measured, pre-weighed dry ingredients that are dissolved in tap water to make fresh developer solution for Ulano Blue Poly-2 indirect system photographic stencil film.


Ulano STA-SHARP Adhering Liquid is specially formulated for adhering Sta-Sharp film to screens.

Ulano STA-SHARP Adhering Liquid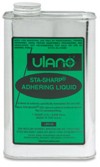 ® ArtDoggie is a registered trademark of Herwecks Inc. San Antonio, Texas © Copyright 2006 All rights reserved.


CDF-4  26"X150"                     106.25

CDF-4  26"X300"                    171.70

CDF/QT-50  26"X300"            139.25

Blue Poly-2  40"X300"             163.05

A&B Developer                          37.35

Cut Green  40"X300"               194.08

Sta-Sharp  40"X300"               174.34

Sta-Sharp Adhering Liquid qt.    34.05

Sta-Sharp Adhering Liquid gal.   57.35