Because this design Swings completely out of the way of the table, these presses provide complete access to loading and unloading materials and layout transfers. The heat platen is always face down, and regardless of the height of the product being pressed, it is always pressed evenly & level.

The design combines a heavy-duty solid steel industrial grade pressing framework with accurate and easy to use electronics. 

Utilizing a state-of-the-art control system and heavy-duty solid steel welded framework, these machines boasts a lifetime warranty on the heat platen, and an unprecedented 3-year warranty on the heat-control electronics. 

The heat platen uses SuperCoil-Microwinding heater technology, a system of embedded heater windings that wind tightly and closely together throughout the entire platen for extremely even heat, fast recovery & fast heat up times. 

The controller utilizes an easy to read oversized-digit LCD display to show time and temperature simultaneously, and the temperature readout is accurate within +-2°. The controller also features a digital height/pressure gauge for displaying current height settings. The operator can use the 70 programmable presets for saving common application settings of Temp/Time/Pressure, ensuring consistent, repeatable results for all applications. The press is adjustable to accommodate materials from fabric thickness all the way up to 1" thick substrates! 






















.



"One Stop Shop For Your Creative Mind"

Geo Knight Swing Away Heat Presses 

The Digital Knight DK20S is a 16x20 swing-away heat transfer press. Must ship by truck. (Freight cost included in price.)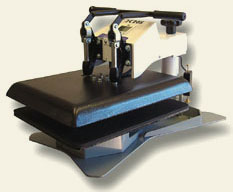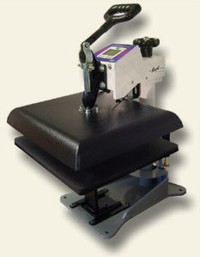 The Digital Combo multipurpose swing-away heat press comes standard with a 14"x16" heat platen and lower table. The Digital Combo utilizes quick-change attachments for heat transferring images onto a surprisingly wide variety of materials. Available for this one press is every attachment necessary to professionally imprint: (Freight cost included in price.)

Other Misc. Fabrics & Materials

Geo Knight DC16 Attatchments

Cap Attatchment - Caps are flawlessly printed with a curved heater block and curved bottom form with a special cap stretching device.

Cube Attatchment - Memo cubes are properly clamped and pressed in the cube fixture. Images are successfully pressed around the cubes' sides for a continuous image wrap.

Mug Attatchment - The 1/2-mug attachment for the Digital Combo allows the imprinting of mugs 1 side at a time. With dye sublimation transfers, full wrap images can be perfectly applied in multiple pressings.

Plate Attatchment - The plate die platens feature quickly inter-changeable components for allowing the circular heating element to press inside ceramic plates. Also included is a template tray and pad for centering the plate.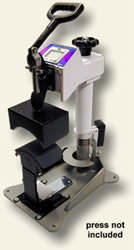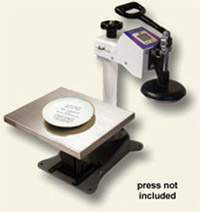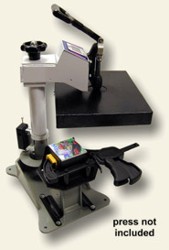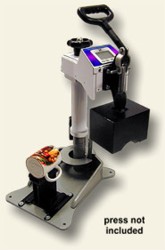 ® ArtDoggie is a registered trademark of Herwecks Inc. San Antonio, Texas © Copyright 2006 All rights reserved.