.
Emulsions & Stencil Films


Ulano QX-1 UNIVERSAL, FAST-EXPOSING HYBRID EMULSION

QX-1 is a blue-green, ready-to-use, fast-exposing SBQ-dual-cure direct emulsion formulated for industrial and fine halftone graphics printing with conventional and water-based UV inks, and aggressive, solvent-based inks. Its matte finish virtually eliminates the printing problems usually associated with high and low humidity conditions. QX-1 is durable, and has good resolution and definition, and very good wet strength. It is very easy to reclaim, even if underexposed. Solids content: 37%. Viscosity: 6000 cps (25° C.) Shelf life: one year.










"One Stop Shop For Your Creative Mind"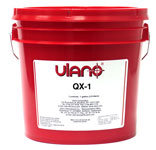 ® ArtDoggie is a registered trademark of Herwecks Inc. San Antonio, Texas © Copyright 2006 All rights reserved.