Roland Vinyl Cutters

CAMM-1 Servo GX-24 Desktop Vinyl Cutter 

In addition to Roland's legendary reliability, the CAMM-1 Servo GX-24 desktop vinyl cutter offers enhanced productivity and quality. Powered by a digital servomotor, it achieves cutting speeds up to 20 inches per second and maximum accuracy. Vehicle graphics, signs, decals, labels, stencils and even pinstriping always come out looking crisp and clean.

The CAMM-1 Servo GX-24 works with all professional sign making software. The latest plugins for Adobe Illustrator (Mac and PC) and Corel Draw (PC) are also included.

Width: Accepts material from two to 27.5 inches wide 

Mechanical Resolution: 0.0005"

Speed: Cutting speeds up to 20 inches per second

Power: Max down force of 250 grams 

Optical Registration: Recognizes crop marks produced by a variety of print-only devices and automatically aligns media so that printed graphics can be accurately contour cut.

Materials: Vinyl, paint mask, reflective vinyls, twill, heat transfer, and sandblast

Roland CutStudio™ Software included






















.



"One Stop Shop For Your Creative Mind"

Graphtec CE6000 Series Vinyl Cutters

CE6000-60 24", CE6000-120 48"

The CE6000 series is also cleaner, "greener" with an electronic design and manufacturing process that minimizes the environmental impact of the hardware equipment throughout its entire life cycle.

• Contour Cut Pre-Printed Graphics

• Includes Graphtec ARMS

• Up to 300 & 450 grams of force

• 2 Included Stand Sizes (24" and 48")

Each CE6000 comes standard with: floor stands (60 and 120), rear media roll rack with new media brake (60 and 120 models), Graphtec Studio software, Cutting Master Plug-in, plus Graphtec's ARMS (Automatic Registration Mark Sensor) system. Professional, reliable servo motors are made for production and accuracy!

The CE6000 comes with Graphtec Studio design software (Mac & Windows compatible) and the completely new Cutting Master 3 Production Manager and Plug-in for the latest versions of CorelDRAW® and Adobe® Illustrator.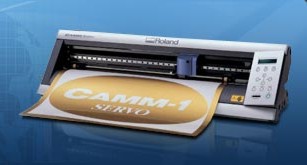 Graphtec CE6000-40 15" Vinyl Cutters

The CE6000 is Graphtec's leading price/performance cutter, providing an ideal solution for cutting a wide variety of materials for the sign and screen graphics industries. This new series incorporates the Advanced Registration Marks System (ARMS) 5.0, a superior feature that is typically available only with higher-end cutting plotters) along with new features such as automark detection and an expanded effective cutting area. The work of ensuring accurate long cuts is taken out of the hands of the user, and is now managed by this improved registration tracking system.

The CE6000-40 can achieve cutting speeds of up to 24 ips. Maximum cutting pressure is 300g for the CE600-40. One completely revamped feature of this new series is the large 7-line LCD backlit screen. The new LCD screen is icon driven for intuitive usage and can function in 10 languages. In addition is the introduction of Simple Operation Mode. Having its own button on the control panel, operating in simple mode will automatically set the cutting conditions based on what type of media is selected. The 2MB buffer and Dual-port connectivity, (USB 2.0 Full Speed and Serial) makes the series compatible with virtually any current or veteran computer configuration.

The CE6000 comes with Graphtec Studio design software (Mac & Windows compatible) and the completely new Cutting Master 3 Production Manager and Plug-in for the latest versions of CorelDRAW® and Adobe® Illustrator.

® ArtDoggie is a registered trademark of Herwecks Inc. San Antonio, Texas © Copyright 2006 All rights reserved.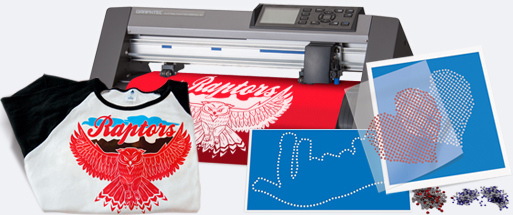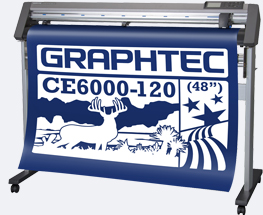 The Silhouette CAMEO® connects to your computer, allowing you the freedom to cut all your fonts, download thousands of designs from the Silhouette Online Store, or design shapes of your own with the included software.

The small footprint and the ability to cut vinyl, heat applied transfers — and also cut pre-printed designs from your desktop printer makes the Silhouette CAMEO™ perfect for your mobile sign applications, customized apparel and takeaways at kiosks, plus more.

Silhouette Studio®

• FREE software included with every Silhouette CAMEO®

• Mac® and PC compatible

• contains powerful design tools to create your own shapes

The Silhouette CAMEO® has an optical scanner that reads registration marks printed with your design and cuts precisely around the image.

• Cut fonts already installed on your computer

• Resize designs and text from 1/4" to 12" wide and 10' long

• Cut a variety of materials including: cardstock, fabric, magnet paper, paper, adhesive vinyl, vellum, chipboard, transparencies, heat transfer material


CE6000-120 48"       3495.00


CE6000-60 24"         1745.00

CE6000-40 15"         1195.00

Cameo  12"                 269.99

Camm-1 GX-24         1995.00