® ArtDoggie is a registered trademark of Herwecks Inc. San Antonio, Texas © Copyright 2006 All rights reserved.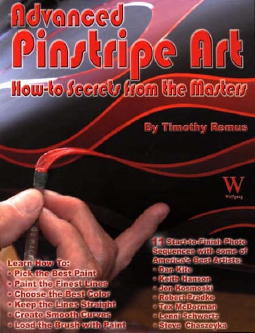 ADVANCED PINSTRIPE ART

by Timothy Remus

Since the days of Von Dutch, hot rod and motorcycle enthusiasts have used pinstripes both as stand-alone art, and as a compliment to a flame or graphic paint job. Timothy Remus uses over 500 color images to present the work of 11 well-known pinstripe artists. Each chapter presents one start-to-finish project and an interview with the artist. The photo sequences take the viewer from the initial sketch to the finished design. Text explains each step of the artwork, the interviews explain the artist's choice for paint and brushes. The artwork, often complimented with gold leaf or airbrush colors, is done on panels as well as various vehicles and components. Advanced Pinstripe Art brings the reader into the shop of some of this country's best pinstripe artists, for an intense and intimate how-to lesson. This is pinstripe school, taught by masters, brought to your own home or shop. $24.95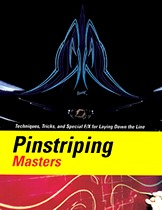 PINSTRIPING MASTERS - Laying Down the Line

by Craig Fraser

Pinstriping Masters-Techniques, Tricks, & Special F/X for Laying Down the Line features how-to's and photo galleries from 28 of the top pinstripers in the world. Pinstriping Masters, 160-pages and full-color, is the best book ever published on the subject. Among the artists featured are: Bob Bond, Wizard, Craig Fraser, Makoto, E-Dog, Mr. J., Von Franco, and Mike Lavalee.  $29.95

Advanced Pinstriping                24.95

Pinstriping Masters                    29.95

Pinstriping by Ed Roth                7.50

Roth's 101 Pinstriping Ideas        7.50






















.



"One Stop Shop For Your Creative Mind"

PINSTRIPING

by Ed Roth

Travel back into the 50's with a pioneer of pinstriping, Ed Roth.

His insights and instructions will give you much of what you need to know about being a pinstriper of the year 2000 and beyond! Lots of anecdotes and info from a great artist in the field of automotive art.

$7.50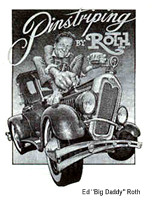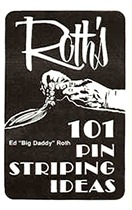 101 PINSTRIPING IDEAS

by Ed Roth

Companion book to "Pinstriping" by ROTH, this work continues Ed Roth's discussion of the pinstriping business, the source of his design ideas, and the truth about camel hair brushes (hint: they aren't really made from the hair of camels). In addition to the discussion on designing, the book is filled with anecdotes and insights from a great artist in the field of automotive art.

$7.50