QCM Perm-170 Polyester White Plastisol Ink

Due to the demand for a white ink that consistently fights dye migration, QCM has developed PERMA-WHITE. Unlike most "bleed resistant" whites, PERMA-WHITE exhibits the unique QCM quality of soft, creamy, easy to print consistencies. No more suffering with "tar" to fight bleed. PERMA-WHITE, an excellent all purpose white for those wanting 1-white to do it all.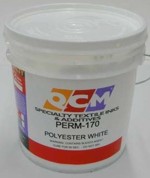 .
Serving the San Antonio Art Community since 1948!


"One Stop Shop For Your Creative Mind"