® ArtDoggie is a registered trademark of Herwecks Inc. San Antonio, Texas © Copyright 2006 All rights reserved.

Res-n-gel ® Oil Painting Medium

Res-n-gel® is a full strength, ready to use, synthetic resin gel. It is a transparent, full bodied medium which extends expensive oil colors. It is ideal for glazing effects. Res-n-gel® gives a buttery brush response, prevents colors from running, retains character of brush strokes, holds sharply defined detail, adds luminosity and brilliance to colors and accelerates drying. An excellent medium for painting with either brush or palette knife to create a full range of impasto, opaque, translucent glazed effects. Nontoxic.

Turpenoid® Gel Oil and Alkyd Painting Medium

Fast drying with high cohesion. Turpenoid® Gel increases transparency of oil colors and creates impasto. Turpenoid® Gel is clear, semi-soft and smooth. Extremely stable and flexible; holds brush strokes in place.

Linseed Oil

Finest quality, purified and refined linseed oil is pressed from flaxseed. Contains no free mineral acids. For use in diluting oil or alkyd colors and making painting mediums or to clean brushes.






















.



"One Stop Shop For Your Creative Mind"

Sphinx Retouch Varnish 4oz.        6.30

Turpenoid 4oz.                              4.95

Turpenoid 8oz.                              8.99

Turpenoid 16oz                             9.90

Turpenoid  32oz.                         13.95

Linseed Oil 4oz.                             5.40

Turpenoid Natural 4oz                   6.75

Turpenoid gal.                             40.50

Turpenoid Gel 150ml                   15.60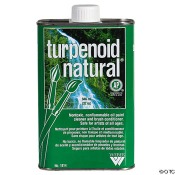 Turpenoid

An odorless, very volatile, thin, colorless, turpentine substitute, Turpenoid® has the same painting properties and drying time as turpentine but is free from the strong characteristic turpentine odor. Compatible with oil colors as a painting vehicle, either alone or in mediums. Turpenoid® is also excellent as a solvent or paint brush cleaner, and for use in removing paint spots from clothing.

Sphinx® Retouch Varnish

A quick drying, light bodied, colorless retouching varnish, composed of crystal clear acrylic resin with a very volatile diluent. Retouch Varnish is excellent for use on parts of a painting that have dried flat in order to bring out their full wet appearance. It can also be used on paint not entirely dry, so further painting can be done. Protects paintings until drying is complete, pending final varnish.

Turpenoid Natural 16oz.              17.09

Turpenoid Natural®

An extremely effective nontoxic brush cleaner and gentle brush conditioner which rinses out with plain water. Brushes are reconditioned when cleaned with Turpenoid Natural®. It is non-flammable, does not irritate skin or eyes and does not emit harmful vapors. It is an effective painting medium when used within recommended guidelines. Now, artists seeking safer choices, as well as students, seniors and those unable to enjoy the pleasures of oil painting because of problems with traditional solvents, have a new safe alternative. Not recommended with Damar Varnish or crystals. Use in paint mediums should not exceed 25% to ensure proper drying time. Do not use Turpenoid Natural® to create washes, glazes or to "wet" canvas before painting.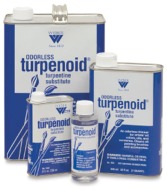 Res-N-Gel 150ml.                        15.29