Bookcloth Roll Navy 17X19              7.99

Bookcloth Roll Black 17X19              7.99

Bone Scorer                                  13.85

Neutral pH Adhesive16oz.              11.25


Bone Scorer

Use to create crisp, clean folds and scores on paper. These tools are essential for bookbinding, fine art, collage, card making, origami, etc. Stiff curved neutral colored scorer is 4 13/16" in length.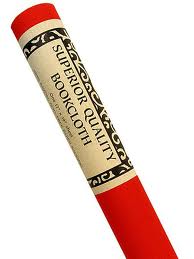 Fine Book Cloth

These large sheets measure 17"x19". The fabric itself is a blend of rayon and natural fibers. All of the fabric sheets are on an acid free paper backing. The fabric is a fine weave with no "fillers" or coatings. Suitable for books albums and boxes. Available in red, chocolate, navy, and black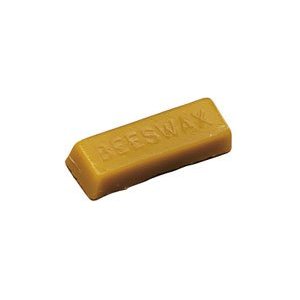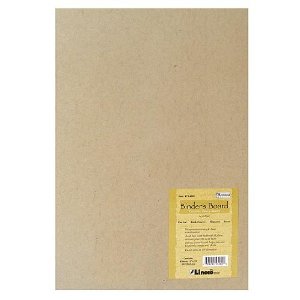 Bookcloth Roll Red 17X19                7.99

Bookcloth Roll Chocalate 17X19       7.99

Gummed Linen Hinging Tape         14.55

Light Duty Awl                                 5.15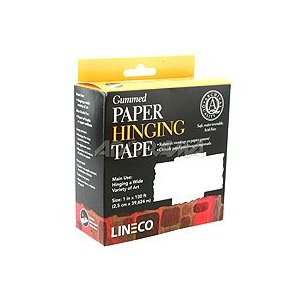 Gummed Paper Hinge Tape

This pH neutral gummed paper tape adheres well to paper cardboard and wood. Designed to create a dust barrier between the back of the frame and backing board or as for use a hinging tape. Size: 1 wide x 130 ft.

Super  18" x 36"

Fine open weave cotton gives good adhesive penetration to unite signatures while leaving the backbone flexible.

Binding Tape

Lineco bookbinding Tape is a geniune linen tape closely woven for strength. Approximately 3/8 inches in width. Can be used on many of the most popular sizes of books. 60 inch package. Natural linen. Non-adhesive.


Bookbinders Needles - #3

Sized to accommodate the sturdy bookbinding threads, these needles have a length that is easy to handle and a slightly blunted point to reduce paper snags. 5 per package.

Bone Folders

These real bone quality tools are invaluable for creasing paper for signatures. Large, Small


® ArtDoggie is a registered trademark of Herwecks Inc. San Antonio, Texas © Copyright 2006 All rights reserved.


Neutral pH Adhesive

Acid-free adhesive used for binding signatures, end sheets and repair.






















.



"One Stop Shop For Your Creative Mind"

Neutral pH Adhesive 4oz.                 6.65

Gummed Paper Hinging Tape         11.80

Book Bonder Needles 5/pkg             3.45

Bone Folders Large                        13.55

Heavy Duty Awl                             15.05

Binder's Tape                                 12.15

Binder's Thread                              10.79

Beeswax                                         7.95

Super 18" x 36"                            10.85

Binder Board  15X20.5  4/pkg        19.95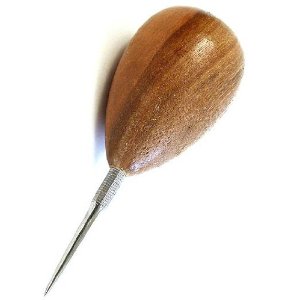 Heavy Duty Awl

This awl allows you to make holes for easier sewing in the toughest materials. It features a large ball handle that rests in the palm of your hand for comfort and power, and a thin point that makes holes perfectly sized for thread.

Beeswax

Genuine beeswax to lubricate thread and prevent tangles.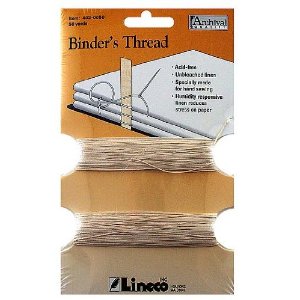 Binder's Board

Acid free composition paper board used for construction of book covers. Can be covered with any material. Grey. 15" x 20.5" thickness .067.


Binder's Thread

This strong, durable natural color, acid-free, unbleached linen thread is excellent for binding sections and repairing books.  Specially made for hand sewing.  Humidity responsive linen reduces stress on paper. 50yds.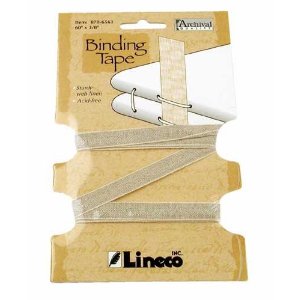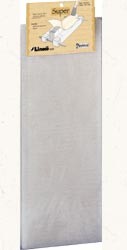 Bone Folders Small                        12.15