® ArtDoggie is a registered trademark of Herwecks Inc. San Antonio, Texas © Copyright 2006 All rights reserved.

Matte Frisket 10/shts 20"x25"    69.50

Stretchmask 18"x10yds.          32.00






















.



"One Stop Shop For Your Creative Mind"

Stretchmask by Artool

Stretchmask is a multi-medium, stretchable and flexible repositionable masking film. It is especially suited to conform to curved and irregular surfaces such as motorcycle tanks, helmets and automotive shapes for painting. It is clear, thin film that cuts very easily with any brand of art knife or single-edged razor and can be effortlessly manipulated and repositioned with your artwork always in view. available in 18" x 10 yds.

Medium-tack adhesion to non-porous surfaces

Won't wrinkle, bleed or flutter under airbrush spray

Won't lift up paint when removed and/or repositioned

Solvent proof - Can be used with water-based and solvent-based paints.

Excellent for fine artists, auto graphics painters, sign painters, hobbyists, modelers, sculptors and general airbrushers.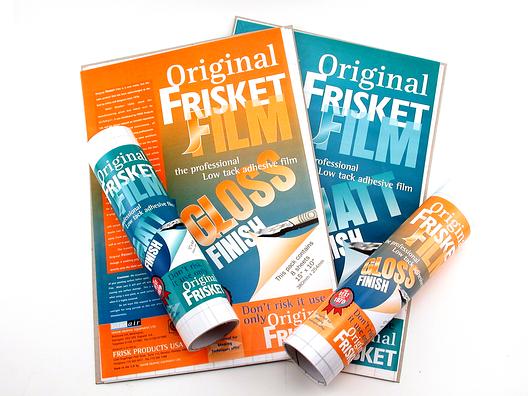 The Orginal Frisket Film by Simair

Frisket Film the low-tack characteristics essential

to airbrush artists and others requiring control of

colour application. Specially designed for masking

airbrushing and other artwork, the fine vinyl cuts

cleanly with minimal pressure thus protecting the

work surface to be painted underneath. Frisket

Film is easily peeled away without damaging most

surfaces and is used by artists working in all types

of media.

Gloss Frisket Film allows perfect clarity when used in position directly onto artwork. It can also be used as a temporary protective cover for job presentations or work in progress.

Matte Frisket Film will accept pencil drawing so masks can be prepared away from your artwork as well as cut in position.

The translucent gridded release paper used on the original Frisk Film is still used, allowing light to come through it, enabling projected images to be traced directly onto the Matt surface.

Available in 25" x 4yd. roll, 25" x 10yd. roll

                 10" x 15" pkg/8

                 10" x 15" single sheet

                 20" x 25" single sheet

Matte Frisket 25"X4yds.             54.80

Matte Frisket 25"X10yds.           98.89

Matte Frisket 8/shts 10"x15"    21.89

Gloss Frisket 8/shts 10"x15"     21.89

Matte Frisket sheet 10"x15"       2.85

Matte Frisket sheet 20"x25"       6.95