® ArtDoggie is a registered trademark of Herwecks Inc. San Antonio, Texas © Copyright 2006 All rights reserved.

Academy Acrylics 3oz. 5.59ea.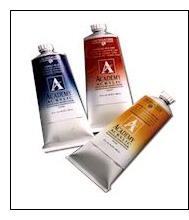 Grumbacher Academy Acrylics

Academy Acrylics are 24 essential colors designed to provide uncommon performance at a price that people love. Big 3 fl. oz. (90 ml) tubes are available at a single low price. Academy uses genuine pigments, including pure cadmium; and hues are carefully formulated to provide not just the right masstone, but authentic tints, undertones and, most importantly, mixtures.  And, because they're subjected to the same tough quality standards as their professional paints, colors are supremely consistent, batch to batch. This means that students can easily achieve the right color mixtures without frustration or waste. And, of course, all colors are certified AP Non-Toxic by the Art and Creative Materials Institute.






















.



"One Stop Shop For Your Creative Mind"